Making Time (And Life) Count - Crosswalk Couples Devotional - August 14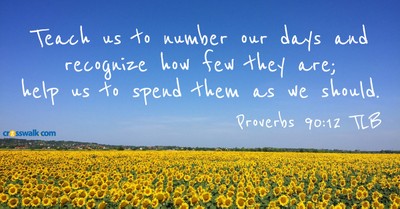 Crosswalk.com

Making Time (And Life) Count
By: Rebecca Barlow Jordan
Teach us to number our days and recognize how few they are; help us to spend them as we should. - Proverbs 90:12 TLB
The death of superstar athlete Kobe Bryant at the young age of 41, along with his thirteen-year-old daughter stunned everyone, especially the sports world. Anytime a high profile character dies young, or even those close to us, we suddenly pause and reevaluate our lives, moving beyond the usual "Why?" questions to more personal ones: "What's life all about, anyway? What have I accomplished? How should I be spending my time to make my life count?"
And then the "What ifs?" can begin. "What if that were me? What if that were my child? My spouse? My friend? What guarantee do I have that my life won't end short as well?" And the answer to those questions is that accidents can happen to any of us. None of us have the guarantee of long life.
Perhaps that's why Psalm 90, actually written by Moses, exhorts us to "number" or consider our days. Our lives pass so quickly, like vapors compared to eternity. How can we number our days? Only God can give us that heart of wisdom we need to help us spend our time and our lives purposefully for Him. And He often imparts that wisdom by allowing us to think seriously about life's brevity and then make good decisions accordingly.
For couples, one of those decisions could involve time management—a hot button issue that always emerged in the marriage enrichment retreats we led, whether for newlyweds or "seniorweds." Even now, my husband and I meet each Monday morning so we can work together on managing our time well for that week.
We've discovered in our own lives, however, that time management discussions alone can result in trying to cram more into our day, rather than focusing on how to set our priorities right. But what if we could work not only on time management, but also on character management?
Following a suggestion by Andy Stanley in his older book, Like a Rock: Becoming a Person of Character, we started thinking about what we'd like for others to say about us when our lives ended. What kind of legacy would we leave? What would our children say about us? Our co-workers? Friends? What would our spouse say? That we were caring? That we made time for them? That we loved deeply? That we were honest and loyal?
What kind of character traits do we want to build into our lives that will match those statements? And then what steps could we take to develop those traits and that legacy? Are we setting the kind of priorities in our lives that will help us leave that kind of legacy? That exercise has sobered us and caused us to rethink our daily decisions that could influence our character.
We all leave legacies. Ours may not reach as many as the spiritual giant Billy Graham or well-known athletes like Kobe Bryant. And none of us know how long we will be given to develop a positive legacy. Billy Graham lived 99 years. Kobe Bryant died at 41. But no matter how old we are or how long we have been married as couples, and no matter how many years we live, now is the time to ask God's help to live each day in such a way that makes a difference. What "time management" adjustments do we need to make in our schedules to "be there" for our spouse? To be more loving? What "character management" decisions can we make to be called men or women of integrity, more spiritually attuned and aware of needs not just in our own marriage relationship, but in our children, our neighbors, our world? What character corrections does God need to make in our lives and in our marriage? And how can we help each other in our marriage to leave a positive legacy?
God doesn't require perfection of us. He covered our sins with His perfection through the sacrifice of His own Son, Jesus. He even uses our mistakes to build lasting character in us—if we will let Him. Our legacy will outlive us. Character is something God creates in us as we surrender to Him, adopt His perspectives, and lean hard on Him. But we can make wiser decisions that will help build the kind of character we want in our lives. By putting Christ in the center of our lives and asking Him to give us the wisdom we need to develop that character and legacy, we'll find a good starting place.
When your life comes to an end, what would you like for others to say at your funeral about you and your marriage? What kind of legacy do you want to leave? And what adjustments are you making so that others will say those things about you?
---
Rebecca Barlow Jordan is a bestselling inspirational author and day-voted follower of Jesus who loves to paint encouragement on the hearts of others. After five decades of marriage, she and her husband are more passionate about marriage and family than ever. Rebecca has authored and contributed to over 20 books and has written over 2000 other articles, devotions, greeting cards, and other inspirational pieces. She is a regular Crosswalk contributor whose daily devotional Daily in Your Presence is also available for delivery through Crosswalk.com. You can sign up for Rebecca's free ebook and find out more about her and her encouraging blog at www.rebeccabarlowjordan.com.
It's time we get real about marriage & relationships! Join marriage coach, Dana Che, as she and her guests deliver witty, inspirational, real relationship talk from a faith-based perspective. New episodes of the Real Relationship Talk Podcast drop every Tuesday.